Hi all, first, I want to say happy new year to you all.

Although it is already 20 days has past since new year eve, but I think this story is worth to share.

At 31 December, I am so excited that I will spent new year eve in Sapporo. First time I spent my new year abroad. I imagine that there would be fireworks, crowds, bands, and fun times, like in this figure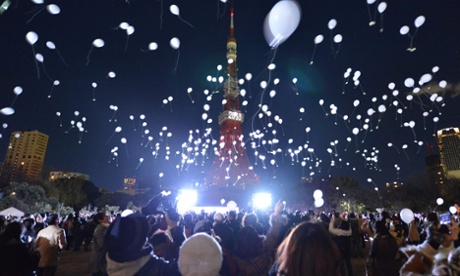 My Imagination of New Year Eve in Japan
So, I decided to go to Odori park, in which it has the same clock tower as one in the image above. But I do not have friends to go there, and new year is so lame if you do not have friends around. At the same time, Cahyo looks for friends to go to Odori park, Then the problem solved, I go to Odori park with Cahyo.
We go at 10 PM and we see that road is not crowded like it used to be. I know that it is already night, but usually i still see one or two car around, but now, there is almost no car passing by. I thought that they already gathered in Odori park. But when I arrived, there are no people at Odori Park. I try to think positively, maybe they still on their way here. I decided to walk around Odori and Suzukino area until 1200. When I go back there again, there were still no people around. And the clock tower lamp were turned off.
So, I go back to dorm with disappointment. If maybe you want to see how Indonesian celebrate new year, you can take a look at below images
Indonesian Style New Year






Severe Traffic Jam due to New Year Celebration




But anyway, it is still nice to celebrate new year in peace, without extreme celebration. It kinda makes you can reflect who you are this year, and what you are going to be next year.
The next day, I ask my Japanese friend, what did they do during the new years eve. They told me that most of them just stay at home and reunite with their family/relatives, and watch TV shows together.
Hahaha, very different with what I imagine.
Thanks for reading this post,
See you on the next post :)