I would like to share a Journey to Kyoto for attending "The 3rd International meeting

Human-Environmental Security in Asia-Pacific Ring of Fire: Water-Energy-Food Nexus" at the North of Kyoto. it was held in the end October 2015. it was fascinating, a lots of Researchers come from several countries like Japan, Indonesia, Filipina, USA and Canada.
These research have a lot of goals as well as expected results : 1. to increase environmental security and to reduce
conflicts
related to the water-energy-food nexus. 2. Policy and
governance
for improved water management. 3. for the sustainability of environmental management of the water-energy-food nexus in the Asia-
pacific
Region. and others.
Moreover, two sites of
research
location were in Indonesia (Citarum river and Jakarta Bay.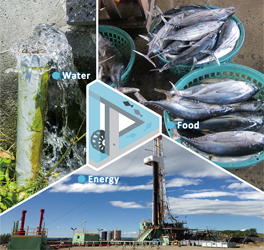 Source :http://www.chikyu.ac.jp/rihn_e/project/R-08.html
One of discussion in international meeting
You can access this link for detail....
http://www.chikyu.ac.jp/rihn_e/project/R-08.html
my Sensei asked me to join this event in order to know several researchers with related to Water-Food Nexus to support my research and network in the future.Lucky me, I can communicate with researchers with related to my concerning.
On the way to Sapporo, Before take off at Kobe airport, I visited Kobe Mosque that was k

nown as

(

神戸ムスリムモスク

Kōbe Muslim Mosque)

, it was founded in October, 1935

and it is Japan's first

mosque.

it was valuable and scarcity moment for me..
some events happened in Sapporo...
white December ...White Sapporo...
one of events was white illumination which was held from in the November until in the end December. Here, some photos with friends..

We were also travelling several places in Fukugawa Prefecture with Volunteers to enjoy "Aruku" or Sky Walking. Moreover, we were served "Traditional Dishes" for New year.
Special " Dishes" for New Year.
These were contained several items such as sweet red beans, shrimp, cake, fish covered wet nori, Mochi,fish with bamboo, caviar and etc. All of them are delicious food!!!...
I Hope you can enjoy it....